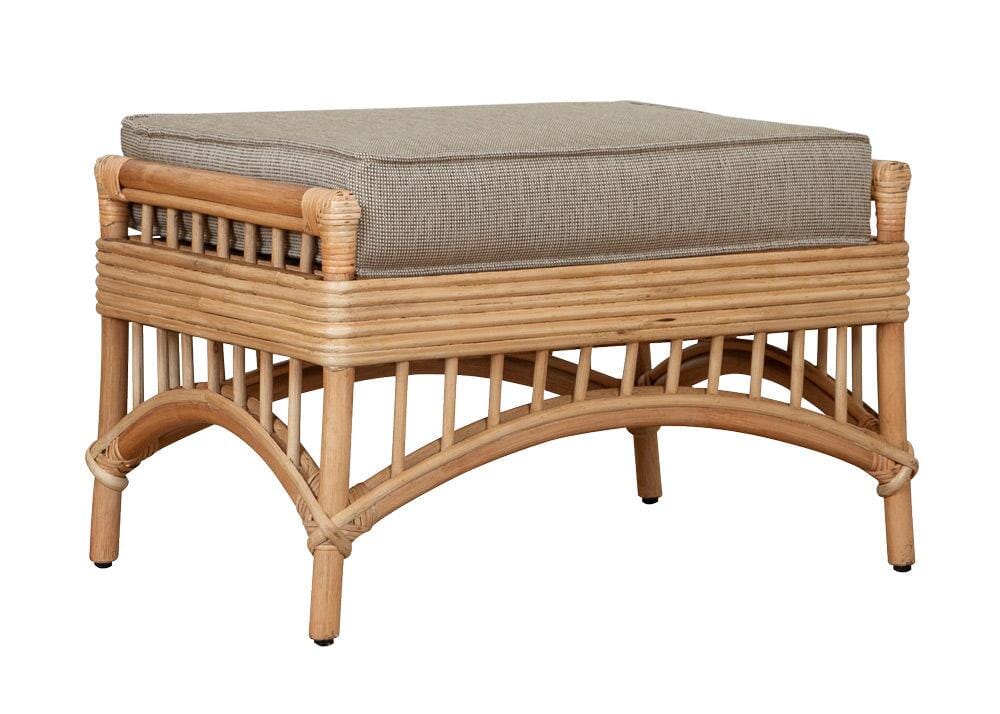 Kuranda Foot Stool - Natural

Our Popular Kuranda range has expanded - New footstool in natural finish to match our existing range. Pair with our armchair or 3 seater for the ultimate in 'feet up' comfort!
Our product images are taken in a studio environment. Please allow for colour variations depending on your monitor settings, device & the lighting environment in your home.
Delivery costs
To calculate your delivery costs, please select your desired products and enter your postcode at the cart page. Shipping costs are calculated based on the weight and volume of the order, delivery destination & any special requirements of your property. Please note that Vast Furniture & Homewares only deliver to mainland Australia, we do not deliver to addresses that require barge or off-mainland access. We do not deliver to PO Boxes. It is the duty of the customer to provide Vast Furniture & Homewares with truthful and accurate details of the delivery destination at the time of checkout. Extra costs will be incurred and charged to the customer for delivery to a property that has more than 3 flights of stairs or to a property which has a longer driveway than a standard and reasonable residential driveway.

Estimated delivery date
Vast Furniture & Homewares endeavours to have all customers contacted by our team within 24-48 hours after successful completion of your order. We endeavour to have all orders dispatched from our warehouse within 2 business days in selected areas only & regional destinations within 7-10 days after contact by our delivery team. Estimated delivery times will depend on where your product is being delivered. If the products are not available for immediate delivery, you will be contacted by our team to advise of an estimated delivery date. We shall use all reasonable endeavours to meet the estimated delivery date, however there may be circumstances beyond our control which may extend the fulfilment date.

Delivery requirements
Vast Furniture & Homewares requires the person accepting delivery onsite to be over 18 years of age. This person may be asked to provide the driver with proof of their identity and/or age. If it is proved that this person is under 18 years of age than the products will be returned to our depot and all charges relating to storage and re-delivery will be payable by the customer. This person will need to sign for the goods and confirm that they are in good order and condition at the time of delivery. This person will also need to sign to confirm that no property damage has occurred during the deliver. Delivery will take place at the address listed on the sale invoice. If no one is at home for a scheduled delivery, a delivery fee will apply for all re-deliveries payable by the customer. It is the responsibility of the customer to organise the re-delivery.

Lost or damaged product
While Vast Furniture & Homewares uses the highest quality suppliers & logistics teams, on rare occasions products may be damaged during packaging or lost and damaged during transit.
If your product is delivered and the carton or packaging is in good condition yet once unpacked the product is shown to be damaged, please contact hello@vastinterior.com.au or 07 3160 7555 and one of our team members will manage your case through to completion.

Liability
It is the responsibility of the customer to ensure the correct delivery address and access details are provided to us at the time of sale. Vast Furniture & Homewares will not be responsible for any costs that arise due to the incorrect delivery address or access details provided by the customer. Vast Furniture & Homewares will not be liable for any refund of delivery fees paid by you the customer once the delivery service is completed.
Change of mind:
Vast Furniture does not accept returned products due to a change of mind. This includes if you simply change your mind, decide you do not like the purchase or have no use for it.
Minor problems: repair or exchange
For a minor failure (including damage during shipping) with the product, you are entitled to:
Have the product repaired within a reasonable time frame by a Vast Furniture approved repair agent or a replacement of the product. If this is not completed within a reasonable time frame or the problem is not fixed you are then entitled to a refund or exchange.
Major problems: refund, repair or exchange
For a major failure with the product, you are entitled to:
Reject the product for a refund or reject the product for an identical replacement, or one similar in value if reasonably available or keep the product and obtain compensation from Vast Furniture for the drop in value of the product caused by the major failure.
Pricing
Prices on the website indicates metro pricing, pricing may vary for some items in country stores
Kuranda Foot Stool - Natural